TAHA MUTLU | Atabey 75. YIL Middle School Computer and Technology Teacher
STEM (Science, Technology, Engineering, Mathematics) education is an educational approach that includes the integrated teaching of science, technology, engineering and mathematics and covers the whole process from preschool to higher education. Individuals who are raised with this education will adapt to the qualifications expected in the business world more easily. In this context, STEM education is considered important for leadership and economic growth in the scientific field.

THE AIM OF STEM EDUCATION
The STEM education system proposes a project-based and practical education approach. Goal; to raise innovative, creative and productive individuals who can transform their thoughts to real world. It enables students to apply creative solutions in their daily lives to solve problems related to these disciplines by increasing their basic knowledge levels in science, technology, engineering and mathematics disciplines.
STEM EDUCATION IN EARLY AGES
In pre-school and primary school levels, generations that question analytically, think creatively, and have high communication skills are trained with an early STEM approach. With an early STEM approach, students between the ages of 4 and 10 have the chance to receive an education without memorization from a young age.
The Advantages of STEM
Students who develop mathematical thinking skills also increase their capacity to work in science. The strengthening of the mathematical thinking skills acquired in the primary and secondary education period and the addition of production processes to the project-based education gives students the ability to transform their thoughts into production throughout their lives.
STEM APPROACH WITH TWIN SETS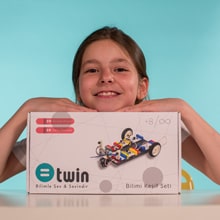 Twin sets are one of the rare resources that can be used to include early childhood children in stem education, because Twin sets describe the working logic of a system, not code writing to children. Our children, who create the algorithm of the project they will make, can design it very easily with their Twin sets. They can find solutions in groups, which increases their ability to work in groups. It is aimed to gain competencies in developing and implementing original activities and projects. These sets are not only prepared according to the Information Technologies course.Since they are prepared by considering the stakeholders for all courses such as Science, they allow children to practice their imaginations.