Artificial intelligence (AI) has the potential to transform education and help teachers to deliver a more personalized and effective learning experience for their students. AI tools are becoming increasingly popular in the education sector, and many teachers are already using them to enhance their teaching practices.
One AI tool that is gaining massive attention is ChatGPT. ChatGPT is a generative AI chatbot that is designed to interact conversationally with users, much like a human would. It has been trained with information from various sources across the internet and has been fine-tuned by humans to provide authentic responses.
Using ChatGPT is easy; simply ask a question or make a request and it will respond. There are various ways that this tool can be utilized in the classroom, as highlighted in a blog post titled, "ChatGPT, Chatbots, and Artificial Intelligence in the Classroom." Some of the potential uses include providing quick answers to student questions, assisting with research, and even improving writing skills by analyzing the text entered by students.
ChatGPT operates on a "freemium" model, with both free and paid premium plans available. ChatGPT Plus is available for $20 per month and provides access to ChatGPT even during peak times, faster response times, and priority access to new features and improvements.
Curipod is an AI-powered platform that generates interactive slide decks in seconds. It's an excellent tool for educators who need to create engaging presentations quickly. With Curipod, you can add polls, word clouds, open-ended questions, and a drawing tool to your slides to keep your audience engaged.
To use Curipod, all you have to do is give the tool a topic. Curipod then generates 9-12 slides on your topic. Once you have a slide deck, you can edit and adjust it to suit your needs. You can even add more slides to the deck if necessary.
Curipod is a freemium tool, which means that it has both free and paid plans. With the free plan, you can have up to five private Curipod decks. However, you can delete old ones and create new ones. The premium plan costs $15 per month for teachers. School and district licenses are also available.
Overall, Curipod is an easy-to-use platform that allows you to create interactive slide decks in seconds. It's perfect for educators who want to keep their audience engaged and focused during presentations.
SlidesAI.io is currently available as an add-on for Google Slides, with PowerPoint support coming soon. With SlidesAI.io, you can create professional-looking slides in just a few clicks.
To get started, simply enter the text that you want to turn into a presentation. You can then customize the look of your presentation by choosing from a range of themes and templates. SlidesAI.io will automatically generate slides based on your text, complete with eye-catching visuals and graphics.
SlidesAI.io is a freemium tool, meaning that there is a free plan and a paid premium plan. The free plan allows you to create up to 3 presentations per month with a 2500 character input limit. The Pro plan costs $10 per month and includes 10 presentations per month with a 6000 character input limit. The Premium plan offers unlimited presentations and a 12000 character input limit.
Whether you're a teacher, student, or professional, SlidesAI.io is an invaluable tool for creating engaging presentations quickly and easily. Check it out today at slidesai.io.
Yippity is an AI-powered tool that can help teachers create quizzes from any text or website with ease. By simply submitting the text or URL, Yippity will automatically generate a set of questions and answers based on the content provided. These quizzes can be shared with others through the platform's share button or can be copied and pasted into a flashcard app or quiz tool. With Yippity's Early Bird Plan, which is priced at $2.99 per month, teachers can enjoy unlimited AI question generation. The platform also offers a free plan that allows users to create up to three AI quizzes per month, with a character limit of 10,000 characters. To learn more about Yippity and its features, visit their website at yippity.io.
Grammarly helps you to write confidently and error-free. Grammarly's AI checks your grammar, spelling, style, tone, and more. It is available as an extension or add-on in various productivity tools such as email clients, social media platforms, and productivity suites. The tool also allows you to type directly into its editor, or you can copy and paste your writing from another document.
Grammarly offers both a free and paid premium plan. The free plan checks for grammar, spelling, punctuation, conciseness, and tone detection. On the other hand, the premium plan, which costs $12.00 USD per month, includes everything in the free plan plus full-sentence rewrites, word choice, tone suggestions, and citations. Whether you are a student, teacher, or professional writer, Grammarly can help you to improve your writing. Give it a try at Grammarly.com.
Writesonic is an AI-powered copywriting tool that helps you create compelling content for your audience. It uses machine learning algorithms to generate unique and engaging marketing content that's tailored to your specific needs.It helps teachers create effective and informative content that engages students and parents, while reducing the time spent on content creation. Additionally, Writesonic's features can help teachers create headlines, descriptions, and email subject lines that grab attention and convey important information. By leveraging the power of AI, teachers can create high-quality content that engages their students and improves communication.
Teachers are constantly juggling a lot of tasks, from creating lesson plans to grading assignments. Speechify is an AI-powered tool that can help ease the burden of reading and absorbing information. With Speechify, teachers can convert text from documents, PDFs, webpages, or books into speech, making it possible to consume content at two to three times the speed of reading. This tool is perfect for busy educators who want to stay on top of their reading without sacrificing precious time. It also includes features such as scanning, listening, highlighting, and note-taking, all available in over 30 different voices and 20 languages. While the free version provides access to 10 standard reading voices, the premium version costs $139 USD per year, giving access to the full range of tools and voices. Visit Speechify.com to learn more.
Teachers often struggle to create engaging visual aids for their lessons. However, with DALL-E 2, teachers can create their own images without any artistic skills. DALL-E 2 is an AI system that can generate realistic images and art from natural language descriptions. Teachers can type in a description of what they want to see and choose how they want it represented, such as pixel, cartoon, or the style of Claude Monet. DALL-E 2 uses a process called "diffusion" to create an image based on the description. Best of all, it's free! Check it out at openai.com/dall-e-2 and take your lessons to the next level with engaging visual aids.
As a teacher, finding ways to engage students and assess their learning can be a challenging task. That's where Conker comes in. Conker is a free online tool that allows you to create multiple-choice, read-and-respond, and fill-in-the-blank quizzes for students at various levels on specific topics. Not only that, but you can also copy and paste reading material to generate quizzes. Conker is incredibly user-friendly; all you have to do is provide some details about the quiz you want to create, and it will generate a short quiz you can assign to your students with a code or export to Google Forms. Additionally, you can create a printable question sheet and answer sheet. With Conker, you can easily assess your students' knowledge and provide instant feedback. It's a fantastic tool for teachers who want to create fun and engaging quizzes for their students. Give it a try today at http://conker.ai.
Meet Otter – an AI meeting assistant that records audio, writes notes, captures slides, and generates summaries. Imagine how Otter can revolutionize your classroom by transcribing class discussions, capturing lecture notes, and summarizing important takeaways for students. Simply connect Otter to your Google or Microsoft calendar and it can automatically join and record meetings on Zoom, Teams, and Google Meet, providing you with accurate and reliable transcriptions. Otter's basic plan is free and gives you 300 monthly transcription minutes and 30 minutes per conversation. You can import and transcribe three audio or video files lifetime. If you need more features and transcription time, upgrade to the Pro ($8.33/mo USD) or Business ($20/mo USD) plans. Say goodbye to taking endless notes and hello to Otter! Check it out now at otter.ai.
Additionally, Twin's skill report feature can be a game-changer in leveraging the benefits of AI in education. Twin provides comprehensive reports to teachers and parents, which highlight the learning outcomes, skill development progress, and areas of interest for each student. With Twin, teachers and parents can understand their child's performance on the app, and receive actionable insights that help guide their child's learning. By combining AI-powered tools with Twin's skill report feature, educators can provide personalized learning experiences and identify struggling students who need extra support, making AI a powerful ally in the classroom.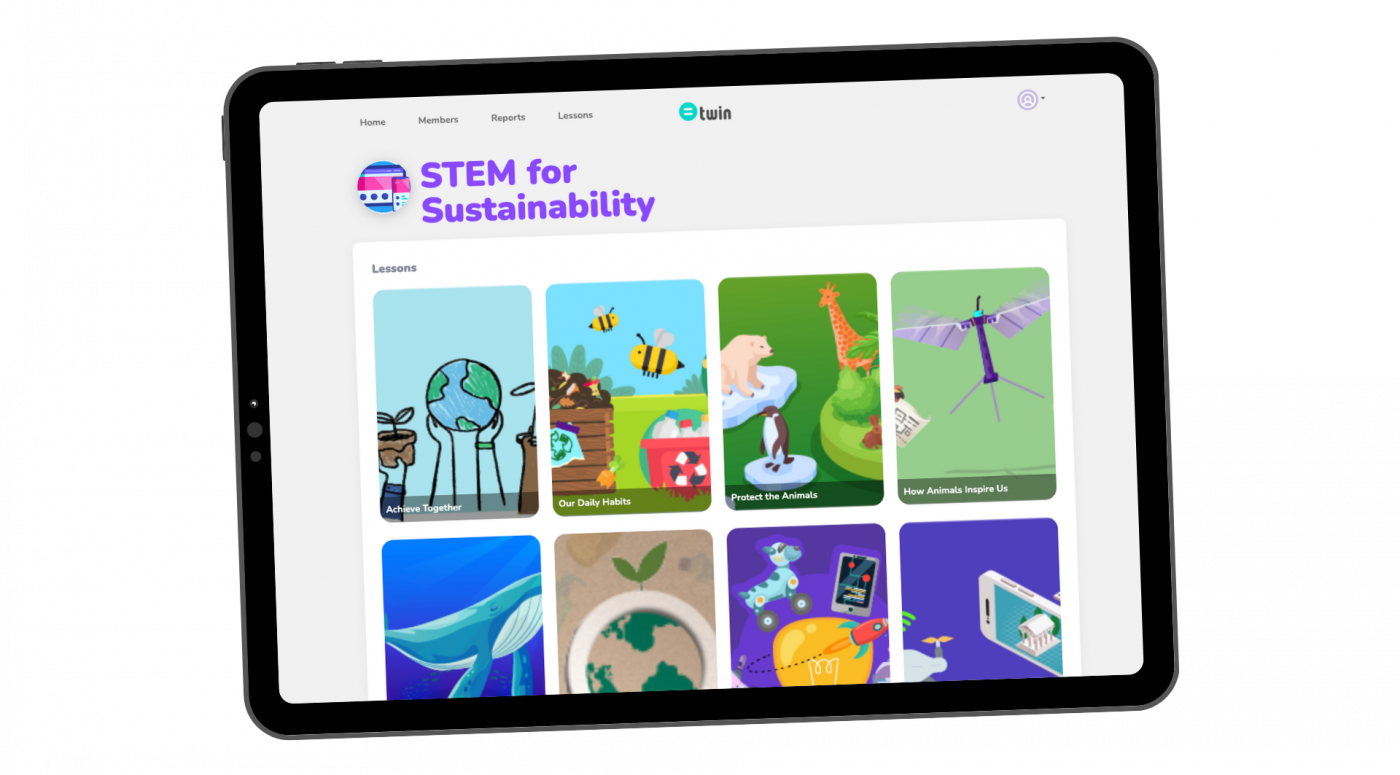 Let's setup a demo meeting!
As AI technology continues to evolve, we can expect to see more innovative AI tools for teachers in the future. These tools have the potential to transform education and provide students with a more personalized and effective learning experience.
However, with the benefits come potential risks that teachers need to be aware of.
One of the biggest risks of using AI tools is the potential for bias. AI algorithms are only as good as the data they are trained on, and if that data is biased or incomplete, it can lead to biased results. For example, an AI tool may generate quiz questions that are biased against certain groups of students, or it may recommend teaching resources that are not inclusive.
In conclusion, AI tools have the potential to revolutionize education, but they come with potential risks that teachers need to be aware of. By being cautious about bias, overreliance, privacy, and job displacement, teachers can ensure that they are using AI tools safely and effectively to enhance student learning.
Read our blog post to discover more!