The word of the day is "hybrid learning." Actually, it's two words and a term that has now cemented itself as a fixture in educational circles, especially in the time of Covid-19. There's a plethora of articles already out there about hybrid learning, but perhaps after reading the 100th one today you still feel a little confused. Hopefully this post will act as a clarifier on what exactly the benefits of a hybrid learning model are and how you can support your child's hybrid learning. Here's everything you need to know.
What is Hybrid Learning?
Hybrid learning is an approach to learning that simultaneously combines online and in-person teaching to create the ideal learning experience. An instructor using a this kind of model delivers live lessons in a classroom and to students studying remotely at the same time. Along with its synchronous (live) lessons, hybrid learning may also include asynchronous (non-live) online learning tool and methods like pre-recorded video instruction and online assignments to support in-person classroom initiatives. A hybrid learning model may include but is not limited to: 
Video conferencing
Online assignments and tests
Online exercises
Online discussion forums
Pre-recorded video instruction
COVID-19 and Hybrid Learning
In the last twenty years we've seen a gradual shift of teaching to online spaces. In recent years classrooms have adopted a 'blended learning' model that requires in-person attendance and employs asynchronous tools. Now, however, the onset of Covid-19 and the worldwide disturbance it has brought to our lives, especially to the education sector, has prompted schools to head online at warp speed. Currently, hybrid learning has become a core strategy for many educational (and non-educational) institutions that wish to reopen. Educators can use a this strategy to engage students and rotate them in and out of the classroom so that they may take turns attending classes in person and online.  
The Benefits of Hybrid Lessons
While the traditional and online education models both have their drawbacks, hybrid learning seems to have found a happy medium between the two models. One of its benefits is that it has increased educational access for students. In the past, in-person teaching required all students to be within traveling distance throughout the duration of their course to receive an education. However, with hybrid learning, this is not necessarily the case – students may have access to learning from remote locations, which can attract students from a wider range of locations, increasing student turnout. Additionally, hybrid learning encourages both educators and students to prioritize classroom time and take advantage of a wide variety of teaching resources. By reducing class sizes a hybrid learning experience can provide students with valuable face-to-face contact time. Moreover, this way of learning encourages the adoption of EdTech, which can boost interactivity, act as supplemental material to pre-existing curricula and reinforce lesson plans more deeply in students. 
Support Your Child's Hybrid Education with Twin STEM Kits & Twin App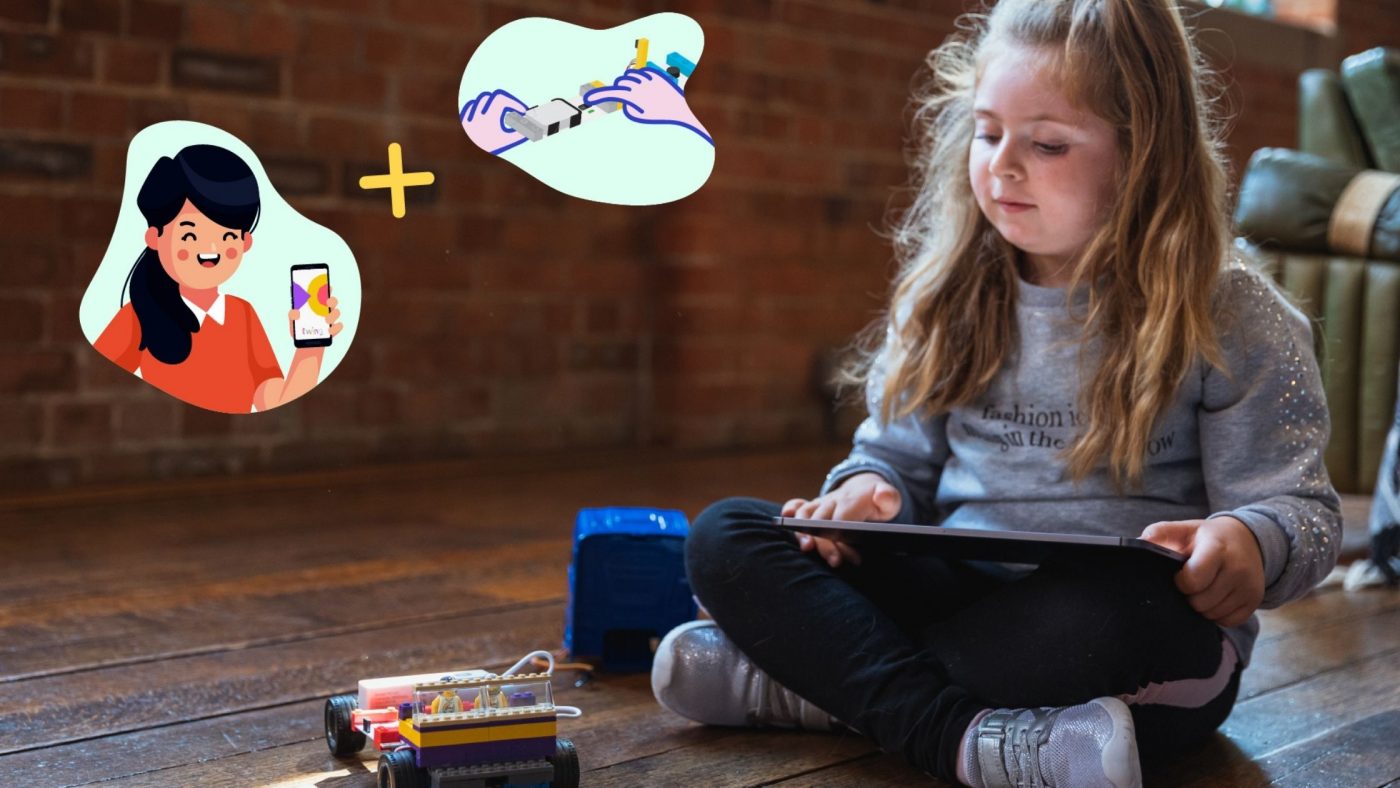 The age of EdTech platforms is now. With Covid-19 it is important now more than ever to ensure that a child gets everything they can out of their education. Learning and finding ways to conceptualize materials presented in class in an engaging and fun way is key to a child's progress in their educational and personal life. This fact has only become more relevant as students are being asked to conceptualize lessons without the structure of a traditional classroom. 
Twin presents children and educators a new way to embrace play time through STEM toys and our educational Twin app, which can be easily integrated with pre-existing lesson plans. Our team has developed STEM Kits that teach children about robotics, science, and technology like never before. Twin empowers children to leverage the resources at their disposal to enhance their hybrid learning with playful, individual, and wholesome educational experience. Children are encouraged to design, build and code with easy and safe to use electronic modules to create an infinite number of projects.  
Twin and Hybrid Learning After Covid-19
Will online learning become a mainstay in schools even after COVID-19 is eradicated? Experts believe that online learning will in fact continue to play a role in student's lives and be further integrated into education, especially since there are now efforts on how to improve the hybrid learning model. To best support today's and future students, we recommend parents to equip their children with EdTech resources like Twin to not only supplement their education, but to enhance it.