Modern children, more than previous generations, are interested in advanced technologies and robot toys, and that's a good thing. Well-designed robot toys help kids develop curiosity, creativity, and collaboration skills while introducing kids to engineering.
Are you looking for an effective educational toy? Consider buying a robot. Here is the list of the best robot toys currently available in the market.
Robotic Art Kit by Twin includes a set of electronic bits (fan, power, and slide dimmer) and craft materials (fan filter, confetti paper, and paint, etc.). It's a perfect option for you if you are looking for a toy that develops kids' natural creativity and curiosity.
The best thing about this robotic art kit is that it's LEGO-compatible. It means that your kids can come up with unique STEM projects and realize their creative potential. If your kids are already familiar with LEGO toys and LEGO history, completion of the project will bring them not only joy but also the feeling of accomplishment.
Perfect toy for: Kids who like to be involved in creative projects
Age group: 5-8
Price: $44.90
Benefits of Robotic Art Kit:
Helps to develop creativity
Drives curiosity
Easy to use
Affordable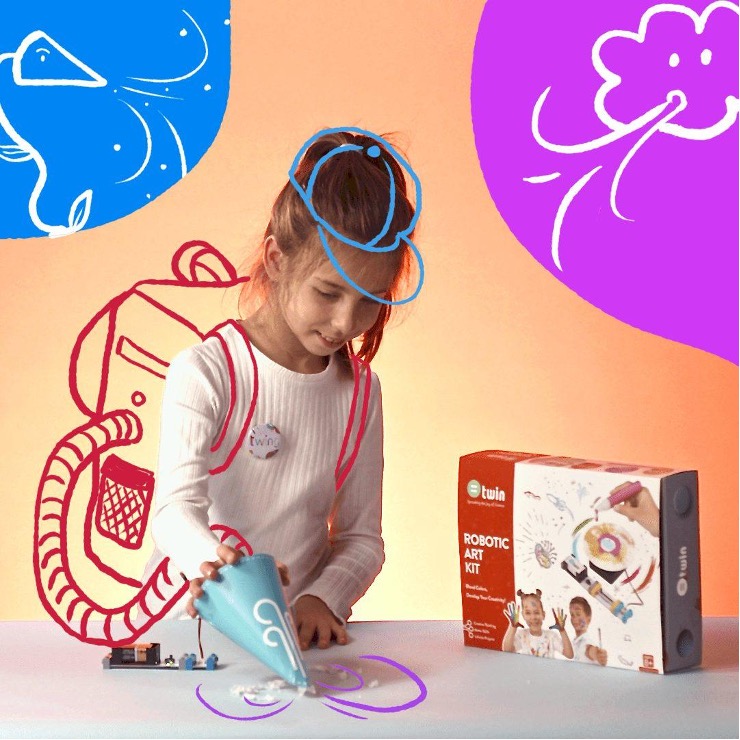 Ozobot Bit Maker Starter Pack
Ozobot is one of the most miniature programmable robots. It's equipped with optical sensors that detect colors. Kids can program this robot toy using color language – OzoCodes – making the robot turn, accelerate, slow down, and more.
This toy helps kids learn the basics of programming and develop 21st-century skills such as creativity and critical thinking. Using this toy, children can get familiar with new concepts and master new skills in a fun way.
Perfect toy for: Curious kids who like hands-on experiments
Age group: 6-9
Price: $99.99
Benefits of Ozobot:
Helps to learn the basics of programming using color language
Comes with a USB charging cable, markers, and do-it-yourself accessories
Helps to develop creativity skills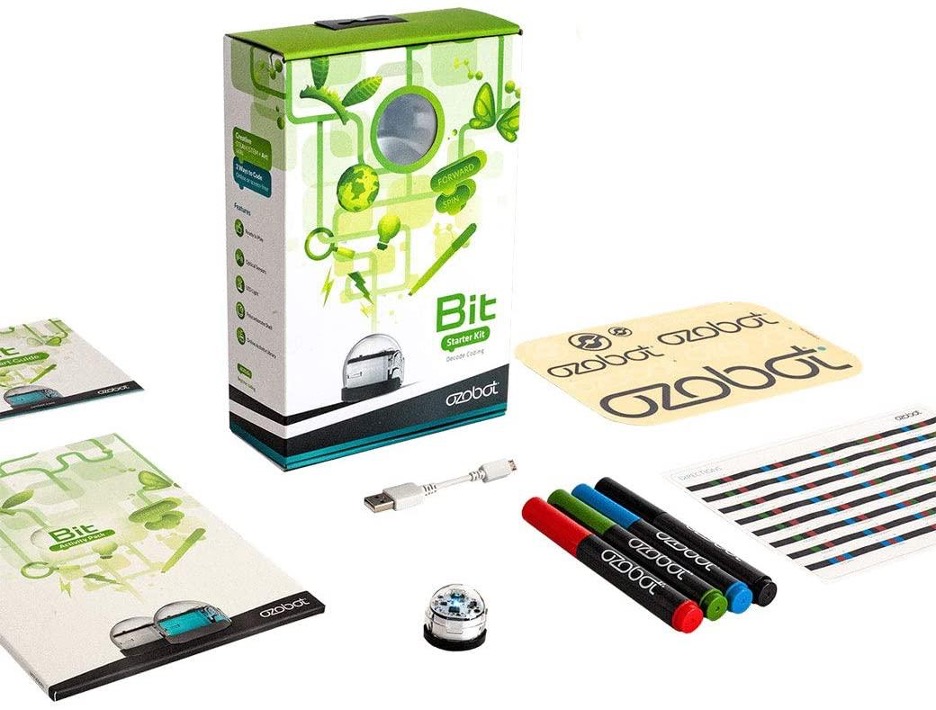 Robot Inventor by LEGO
Many decades ago, the founders of LEGO Company used wood to make simple toys. Today, LEGO is known as one of the most innovative toymakers in the world that heavily invests in research and development (click the link to read more). This well-known company strives to create products that help little learners fall in love with science and new technologies.
Robot Inventor is a toy that opens the world of unlimited educational and playing possibilities for modern kids. The kit comes with more than 900 pieces and a mobile app. It means that children can not only build a robot but also program it.
Perfect toy for: Diligent children who are ready to want to learn coding.
Age group: 10+
Price: $359.99
Allows kids to build five unique designs:
A tough, walking guardian
The quirky helper
Robot for any task
An advanced quadruped
The sports fanatic
Benefits of Robot Inventor:
Helps to develop coding skills
Comes with Robot Inventor App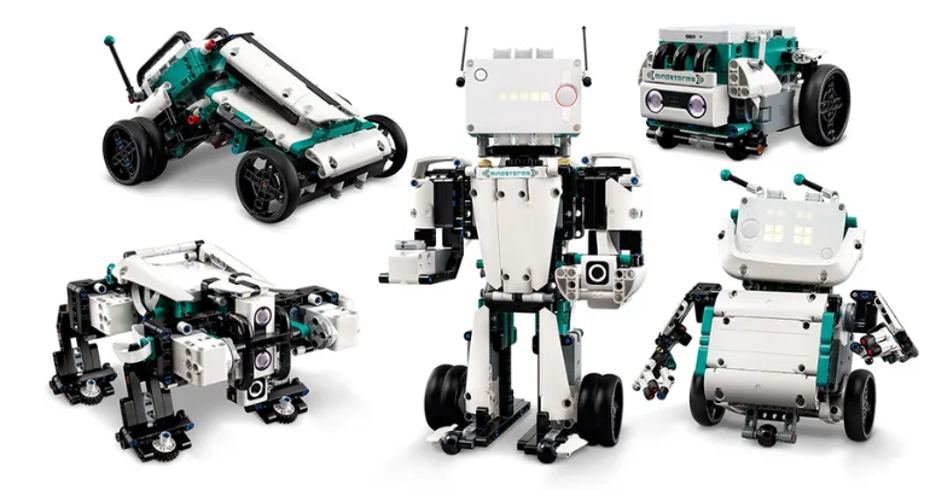 https://www.lego.com/en-us/product/robot-inventor-51515
Robo Explorer by LEGO
Robo Explorer is a robot toy that kids can rebuild into a robot dog with a light-up jetpack or a robot bird with light-up eyes. The set includes over 200 pieces and LEGO light bricks.
The robot has bright-green eyes, working tracks, and arms with a working claw and searchlight. It can rotate the body and head. If your kids are fans of LEGO brick sets, they will like to build and play with this Robo Explorer.
Perfect toy for: Children who love LEGO toys
Age group: 7-12
Price: $48.90
Benefits of Robo Explorer: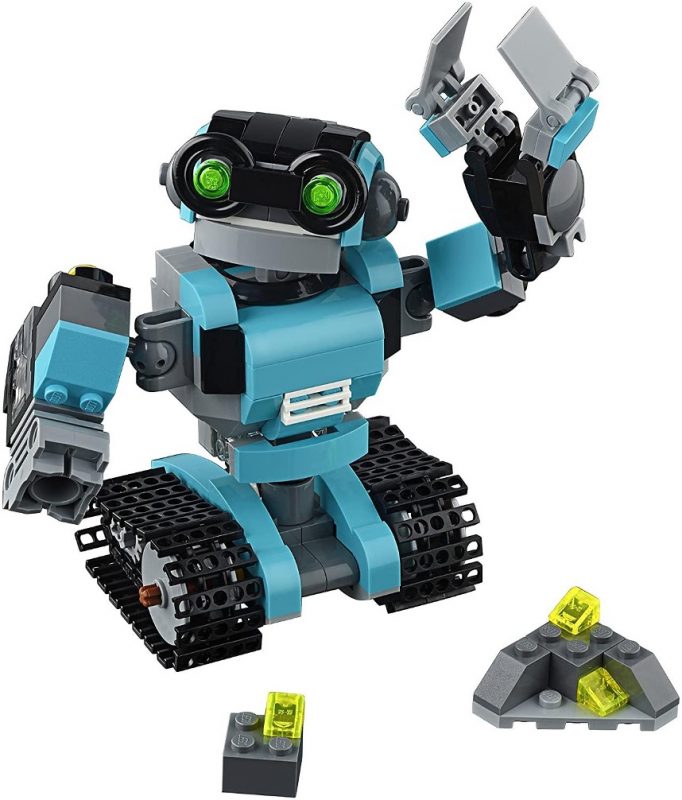 Do you want to raise the next Elon Musk? Gift this Autonomous Vehicle Kit by Twin to your kids to draw their attention to the use of new technologies and trigger your children's creative thinking.
Working on the creation of this unique robotic toy, your kids will learn the concepts of self-driving car technologies and better understand the term "artificial intelligence". Teach your kids in a fun way, and then they will be more open to new learning experiences.
Perfect toy for: Kids who love cars and are interested in advanced technologies
Age group: 7-10
Price: $199.00
Benefits of Autonomous Vehicle Kit:
Familiarizes kids with the concept of artificial intelligence
Comes with a comprehensive user's guide
Easy to build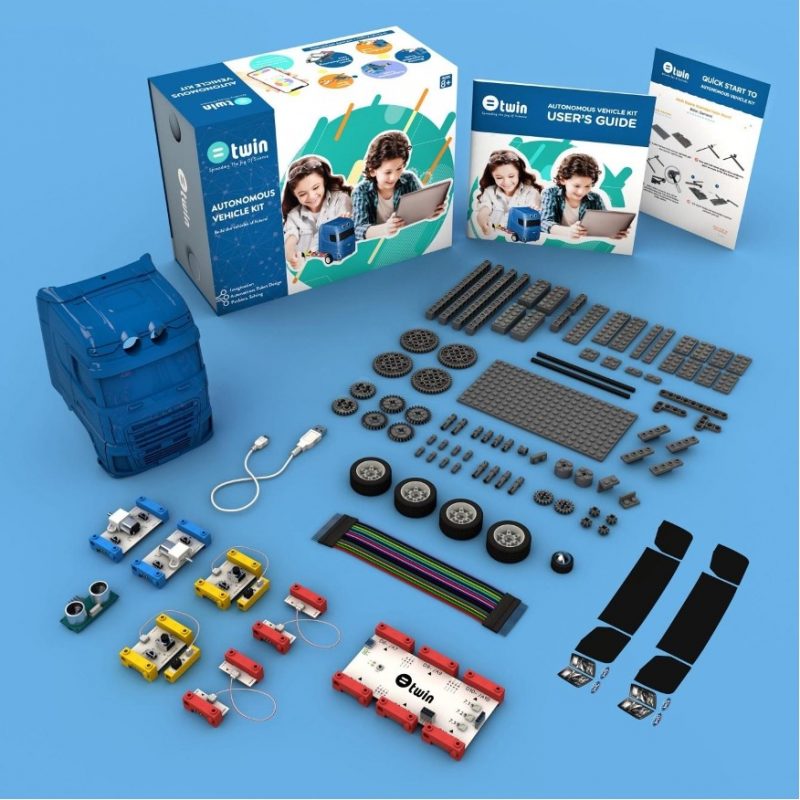 Jimu Robot Kits Meebot 2.0 Kit by UBTECH
Jimu Robot is interesting to build, fun to code, and great to play with. The kit includes 390 interlocking parts and connectors as well as motion robotic servo motors. This toy is just perfect for hands-on STEM learning.
By working on this project, your kids will understand that engineering is a fun thing. They will try to program the LED lights and customized dance sequences of the robot toy. They will gain their very first coding experience, and probably it will influence their future career choice.
Perfect toy for: Diligent children who like hands-on STEM learning
Age group: 8+
Price: $129.95
Benefits of Jimu Robot:
3D, 360° building instructions are available via JIMU app.
The toy provides an interactive STEM learning experience.
Allows creating custom actions with the PRP (Pose, Record, Play) function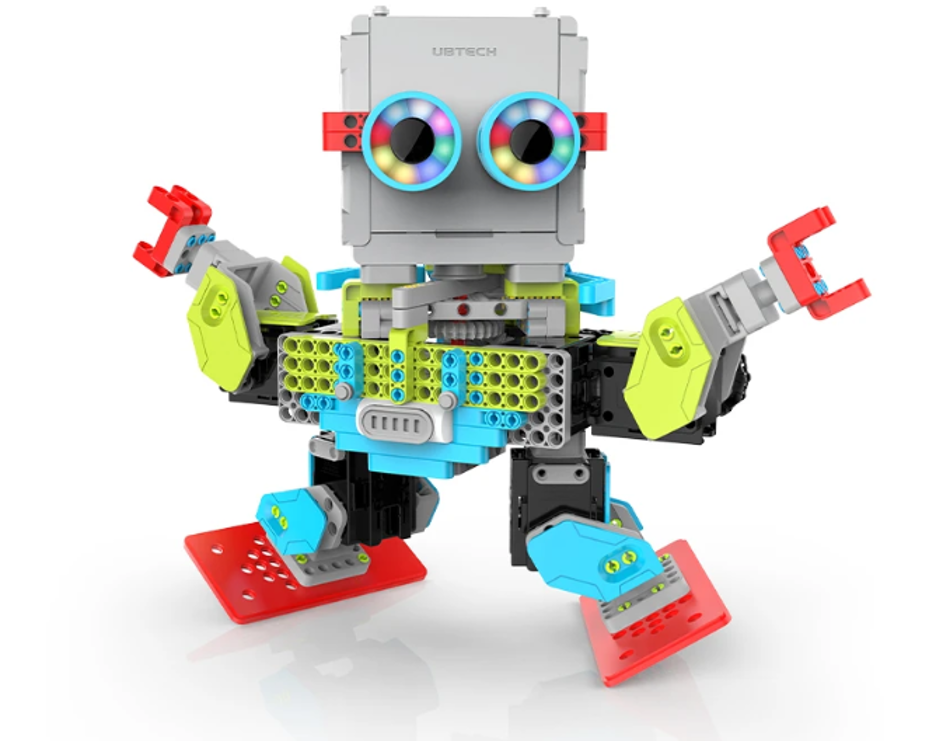 Wrapping up
There are many robot toys out there. Your task is to choose a toy that matches your kids' interests and is suitable for your kids' age while also is affordable for your family.
All these six robot toys provide great opportunities for effective hands-on STEM learning. If you still don't know what toy to pick, show this list of toys to your kids and allow them to make a final decision.
BIO: Marques Coleman is an educational writer and content creator. He promotes the use of new technologies for early childhood education and advocates the use of innovative toys. Marques is a blogger and volunteer at a local youth center.