Homeschooling is an alternative educational model adopted around the globe by many families from different backgrounds. In this model, children are educated in their homes by their parents or an instructor instead of being sent to a traditional public or private school.
Homeschooling can begin in kindergarten and continue throughout the high-school period. If the homeschoolers fulfill the graduation requirements set by the officials and pass their proficiency exams, they can apply for any college or university of their choosing. More and more universities are beginning to take notice of homeschooling every day, and even Ivy League universities accept homeschooled graduates.
Homeschooling is gaining popularity around the world. NHERI (National Home Education Research Institute) claims that the number of homeschooled children in the US in 2019 was estimated at 2.5 million.
It simply allows families to decide what to teach and how much time they can spare on a subject based on their children's needs. This frees the child from the traditional school curriculum made for the overall student profile.
In recent years, many parents have chosen to homeschool their children for a variety of reasons, including:
Individual attention: Every child's needs differ
Safe environment at home
Morals & values instruction
Location & distance between home and school
Its main difference from traditional education is that it frees the child to develop at their own pace with one-on-one interactions between the instructor-parent and the child. Homeschooling also creates a safe space where a child can learn without the anxieties of being compared to others. Additionally, it enables families to schedule the sessions as they wish. Homeschooling is also estimated to be much cheaper than enrolling your child in a public or private school.
How does homeschooling work?
We all agree that laying a basis for children on which they can build their further studies is the most crucial step in a child's education. Schools aim at achieving this by organizing a curriculum that provides all the basic information a child should have such as mathematics, grammar, sciences, art, etc.
However, public schools are intended to be effective for the whole student group, and one method that works for the overall profile might not work for your child. In these kinds of circumstances, considering homeschooling might be beneficial.
Homeschooling allows you to take the control of your child's education into your own hands. You may ask, "But, how does homeschooling work?" Parents take the responsibility of creating a curriculum, a schedule, and a study space as well as of instructing the child in these subjects.
Many families choose to organize their homeschooling curriculum themselves based on their approach to education, their children's needs, strengths, and stage of development. Still, some prefer to use curricula usually purchased from companies offering educational guidance or to enroll in one of the many online homeschooling programs. What differentiates these programs from public schools is that families can decide what to teach their children and how to, according to what works best for them.
We use the benefits of technology in every aspect of our lives, and education is one of them. Many homeschooling curricula integrate e-learning for children (like websites and online platforms) with their studies. Using Twin app in education can also be very beneficial for homeschooled students as it is a platform where kids can both learn and have fun!
Twin App offers a well-constructed source of STEM education for kids through interactive videos, live shows, DIY projects, games, and trivia questions as well as engaging them with hands-on projects via coding, robotic art, and aviation kits.
Twin App also provides a monthly Skills Report covering the child's development analysis, subjects that interest the child most, and their top skills as well as recommendations about the activities they can try.
These activities, videos, and games in Twin App do not aim only at getting kids interested in science and helping children develop social skills with a sense of responsibility. Our goal is also to urge them to apply all these skills to make a better world in the future through what we call double-winged learning.
After setting certain educational goals and deciding how to work on the subjects; parents need to create a safe space where their children can be themselves and focus on the learning subjects without feeling insecure or disturbed. Then, the parent and the child can study towards their goals at the child's own pace.
6 Types of Homeschooling
Traditional Homeschooling: We can refer to this type also as school-at-home since it creates a school atmosphere at home by using either the child's desk or the kitchen table.
Unit Studies: Parents integrate several subjects in one theme which can be a historical event or a prominent figure. The students are taught about the theme via various activities.
Roadschooling: This one can be the best homeschooling method for families who prefer to encourage their child to learn from the world itself by traveling around. Still, they have to keep studying certain subjects.
Classical Homeschooling: Classical homeschooling builds itself on three stages: grammar, logic, and rhetoric. The grammar stage is where you establish the foundation by teaching how to learn. In the logic stage, students are urged to reason and to

improve analytical thinking

. The last stage is when they apply logic to the skills they learned before.
Montessori Homeschooling: Montessori education is based on the philosophies of Dr. Maria Montessori. Children are urged to participate in real-life activities using real tools rather to create a full sensory experience.
Hybrid Homeschooling: Some public or private schools offer hybrid homeschooling programs in which students can both attend school face-to-face and study in their own environment through homeschooling curricula.
Pros and Cons of Homeschooling
One of the most frequently asked questions about homeschooling is that "Is homeschooling better than public school?" Honestly, we do not know! There is no correct answer to such a question. So, it is the families who should evaluate the pros and cons of homeschooling and decide.
What are the benefits of homeschooling?
Close observation of the child: Parents have the opportunity to monitor the child's development, strengths, weaknesses, and needs.
Flexible schedule: Homeschooled students can spend extra time on the subjects and/or concepts that are difficult for them to learn and move onto the easier subjects more quickly.
Undivided attention: Most homeschoolers are the only students of their instructors at a time. Being in one-on-one contact helps students to easily concentrate on and engage with the learning content, and to ask all their questions on the spot.
Using teaching methods that are best for them: As every homeschooled student is free to experiment with different study models and find what works best for them, homeschooling frees them to adapt the most effective method for them.
Showing that learning is fun: The school system that is too strict does not excite many students, so they think learning is boring. However, through real-life experiences and

science activities for kids

, children are urged towards being curious about the world and how exciting learning is.
Success in extracurricular activities: Some believe that homeschooled children miss out on participating in groups like school teams. However, statistics presented by NHERI point out that 98% of homeschoolers are involved in more than two activities outside their home.
Higher test scores: According to a survey conducted by NHERI, the test scores of homeschooled students are up to 30% higher than those of public-school pupils.
What are the disadvantages of homeschooling?
Difficulty in maintaining an effective curriculum: Parents who have no teaching experience may fail to teach certain topics and invest too much time in learning a diverse curriculum, and eventually fall behind.
Decline in concentration and learning pace: This is an issue mostly seen in

children with short attention span

. In homeschooling, children are taught by parents who are probably less strict than teachers. The relaxedness may cause students to linger around a topic too much, to lose focus on the subject at hand. This may cause them to direct their attention towards something new and more interesting.
Demotivation: Homeschooled children are prone to feel lonely and lose track of their development as they usually do not have peers to compare themselves with. This may lead to a decrease in their motivation in learning. ONS claims that while 74% of parents say their children have lost motivation. It is also reported by 38% of British parents that their children are struggling to continue their education at home.
Lack of social interaction: If the child is not socialized via various social activities outside the home, they can get isolated and lonely due to the lack of communication with their peers. And this may cause adverse effects on their future lives as well.
What are the requirements for homeschooling?
Although homeschooling provides families a certain amount of freedom in organizing their children's studies, it does not mean that there are no legal regulations. Homeschooling requirements and laws differ from one state to another in the USA. For example, some states require homeschooling students to be enrolled in a public school, while some do not but allow. On the other hand, some states prohibit homeschooling students from enrolling in public schools.
Some states such as California, Indiana, and Texas require homeschooling to comply with the same law that applies to private schools.
Homeschooling in Texas is very simple in terms of laws. You are not required to notify the school district, or to have the same school year as public schools. You only have to use a written curriculum consisting of some state-mandated subjects like math, grammar, reading, etc. to legally homeschool your child.
On the other hand, for homeschooling in California, there are no assessment and immunization requirements like in Texas. Still, you have to notify the school district for your homeschooled child between 6-18 years old, and have to teach state-mandated subjects. Also, if you hire a private tutor, that person has to have a teaching qualification.
Here are the options to legally homeschool your child in California:
Establish a home-based private school
Enroll your child in a homeschooling program
Hire a private tutor
Likewise, homeschooling in Florida offers three options for children between 6-16: Homeschooling under the homeschool statute, under a private school program, or with a private tutor. There are no notification and assessment requirements except for the first option; no state-mandated subjects and teaching qualifications if the child is taught by the parents.
However, these are only a few examples and should not be taken as legal advice as every country (or every state in the USA) has its own regulations and laws. So, we encourage you to contact your local associations and check your state's regulations.
How much does homeschooling cost?
NHERI states that the amount of money paid from taxes for one publicly schooled student is $11,732 per year. But that is not the only expense for public school education as school supplies also cost a lot of money along with extracurricular activities. According to NFA (National Retail Federation), a typical family spent $849 on back-to-school shopping for the 2021 school year.
Private schools, on the other hand, can be even more expensive as their annual tuitions are $12.000 on average.
That is why homeschooling can be a better option for those on a budget. HSLDA estimates that an average family spends about $600 per year for a child on homeschooling curriculum, games, and books. Also, many online resources meet the needs of an average child for a small price, or even free. Homeschooling families can also meet via online groups and organize field trips to get bulk discounts on tickets for museums, zoos, important sites, etc.
Homeschooling Science, Coding & Art
In a world with flourishing scientific discoveries, growing technological systems, and evolving art movements, children should be introduced to science activities, technology, and art at an early age.
The digital world, likewise, is very much merged into our daily life. So, parents might consider setting limits and encouraging educational content online instead of keeping their children away from their devices completely. Through this way, they can achieve managing screen time for kids and flare up their curiosity.
Apps for kids education may be quite useful for that as they provide a broad range of educational content and attract children's attention with game-like activities, teaching them about science and art.
Homeschooling makes giving kids a chance on hands-on activities possible. Parents can engage their children with DIY projects and experiments at home through science kits as well as coding educations through games provided by education technologies companies.
Homeschooling with Twin Science for Science, Coding & Art Education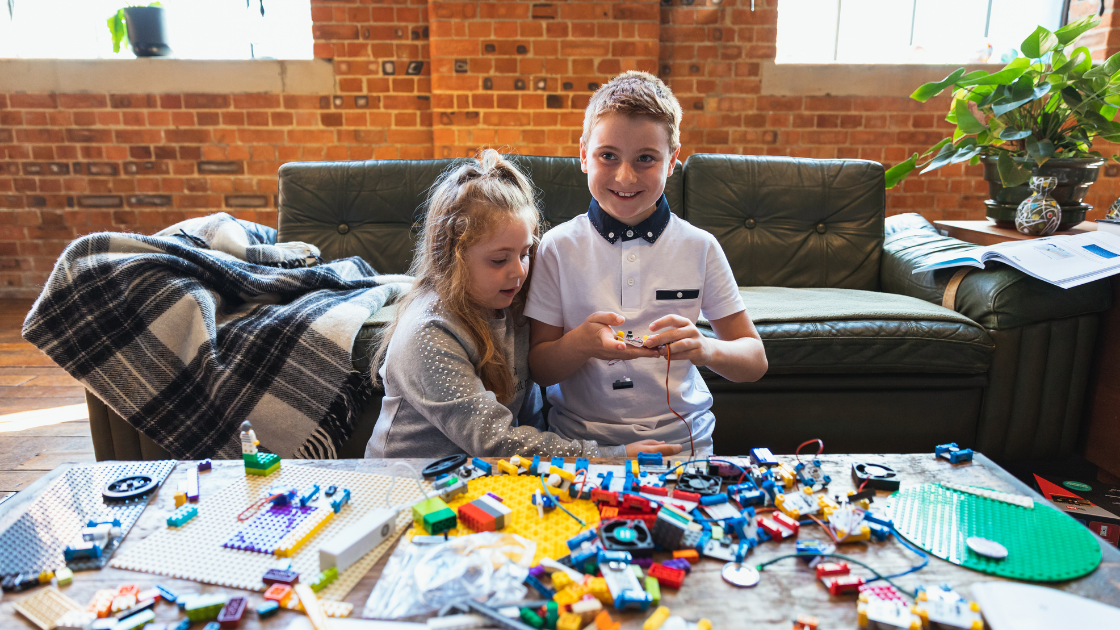 As an ed-tech company, Twin Science educates kids about science, coding, and art through interactive videos, games, and live shows packed in the digital subscription to Twin App. In addition to all these features, Twin Premium subscription also includes kits for robotic art, coding, aviation, etc. So your child can work on these actively.

One of our subscribers reports that his daughter does experiments at home and follows scientific content online after meeting with Twin App. One another also states her child coded a wake-up alarm all by herself thanks to our app. Through games and interactive content, the app aims at teaching children that learning is fun.
Here are some homeschooling tips on how to make homeschooling fun and easier:
Turn learning into games
Work with hands-on crafts and kits
Have field trips and explore nature
Combine learning with music
Try creative art projects
Cook together
Our goal is to support kids' curiosity and interest in STEM and art, along with encouraging them to create a better tomorrow. We believe engaging children with hands-on activities form long-term learning whether it is homeschooling or traditional education.
If you also seek science activities for your child, you can check out Twin science products here!